Shipping Options:

 Orders are shipped via United Parcel Service or the United States Postal Service. Shipping and handling charges are added to all orders.

Add items to your cart and proceed to the Checkout page where you will be offered Shipping Method choices.  Shipping is automatically calculated prior to submitting your payment information.

International Shipping: Live shipping rates are available in our cart for the U.S. and Canada. 

Tracking Number: It's important to provide us with an accurate email address when placing your order so we can send you your tracking number for your shipment. The moment you check out, an email confirmation of your order is sent to you. If you do not receive a confirmation via email, call us at 407.629.6906 if you believe you successfully placed an order but did not receive a receipt.

When your order is shipped, an email with your tracking number is automatically generated and sent to you. The email contains a link to track your package. This is the easiest and fastest way to track your order. There is also a link on your account available by logging in. Be advised that shipped orders are usually updated the day after shipping, therefore the shipping information may not be up to date for several hours after we've shipped. Should your package be lost during transit, we will gladly assist you in recovering your goods by initiating a trace from our end.

Time in Transit: We offer UPS and USPS shipping options for domestic and international orders. How long it will take to receive your order depends on the shipping method you've selected and your delivery address. For US deliveries going UPS Ground, the time in transit is shown in the map below. This map is a general representation of UPS Ground transit times. For service availability and to calculate the delivery time for a package shipped between a specific origin and destination worldwide, click here and enter Sanford, FL 32773 as the Ship From address. You can also calculate time and transit for USPS shipments to your destination by clicking here.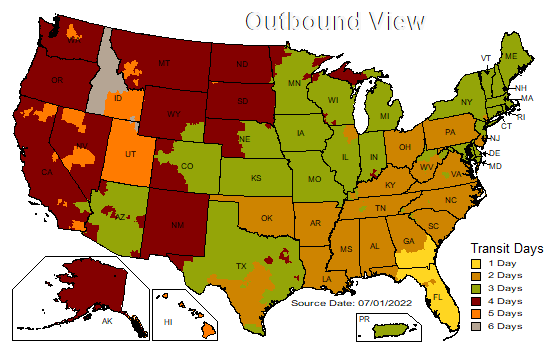 Expedited Shipping & Delivery Times:
Overnight shipping is available on web orders placed before 12 noon, EST, Sunday through Thursday. (Overnight orders placed on a weekend will be shipped after entry on Monday.) We can ship USPS Express or UPS Overnight. Both of these services will require a signature. UPS does not deliver on Saturdays with exception to UPS Worldwide Express, UPS Next Day Air and UPS 2nd Day Air, if specified. (Note: UPS charges a $20 fee for special Saturday deliveries. Please see UPS.com for additional information.) 2nd and 3rd day shipping is also available and must be placed before 12pm to ship the same day. Keep in mind that UPS 2nd day will arrive 2 days AFTER the order is shipped and 3 day is 3 days AFTER the order is shipped. We do not guarantee same day shipping on orders arriving after 12pm. Please contact our customer service department (407.629.6906) to find out if your package can be shipped the same day.

Cancelling & Modifying Orders: To modify or cancel an order you have recently placed, please call our customer service at 407.629.6906. Orders can be cancelled or changed until they are packaged by our shipping staff. If shipped, please obtain an RMA for return or refuse delivery. We cannot promise to combine orders. If you have any questions or concerns about your order, please contact Customer Service at 407.629.6906, 9am-5pm EST Monday thru Thursday or email us. 

Address Corrections & Undeliverable Packages: If we receive a shipment back due to an incorrect address entered by you, you will be charged for the cost to re-ship the package. If there is a charge by the carrier to return the package to us, you will also be charged for the cost of the return. If you choose to cancel the order for non-delivery due to an incorrect address entered by you, you agree that the charge for original shipping and return costs (if any) will be deducted from the refund amount. If a package is returned due to an error on our part, we will reship the package at no cost to you.

Lost or Undelivered Shipments: We do not accept or provide refunds for undelivered packages.  Only shipments showing as lost on UPS or USPS tracking numbers will be considered for replacement or refund (at our discretion).  We are not responsible for boxes stolen or taken by neighbors once tracking shows the box is delivered.

Damaged Shipments: If a shipment is damaged, opened, or tampered with in transit, YOU must contact the carrier immediately and file a claim. Retain all cartons and packaging materials until after an inspection of the damaged shipment has been made.  You may be asked to provide via email or texts photos or videos showing damaged packages or items.  This helps us and the carrier to better understand the situation and to come to a better resolution.


Defective/Shortages/Missing Items:
If your order has any shortages or defective items, you must contact FDJ On Time within seven (7) days of receipt of the package.  FDJtool will assume all orders are correct after that period of time if the customer has not made contact.  If an item is defective, you may be asked to provide via email or texts photos or videos showing damage of defect.  This helps us to better understand the situation and to come to a better resolution..
Returns:
We will take returns on merchandise provided they are unused, undamaged, and in their original packaging.  A return authorization number must be obtained from FDJtool. This number must be placed on the outside of the package (next to the label is best). Returns must be sent back within 7 days of receiving the return authorization number. Returns must be packed in a sturdy carton or box. Even small objects should not be placed in an envelope. Returns without an authorization number or not packed in a box will be refused. The returns should include a copy of the invoice of sale and a note of explanation. All shipping and insurance costs are the customer's responsibility.  No cash refunds. Store credits expire 1 year from date of issue. Please be sure to double check your order to assure accuracy at checkout. If a package is refused and sent back to us, you will be responsible for the refusal shipping charge.
Returns made within seven (7) days may be returned for refund. Returns made within thirty (30) days may be returned for credit toward future purchases. Returns made after thirty (30) days will incur a 20% restocking fee at the discretion of FDJ/On Time.  No returns will be accepted after ninety (90) days.
Items Exempt from Returns: 

FDJtool will not take returns on the following items:

 Video tapes, CD's, DVD's, Cut metals (including silver, gold, copper, brass, nickel silver sheet and wire), Electronic gold testers, Electronic diamond and gemstone testers, Gold testing solutions, Discontinued items, Closeout items, Special order items.

Special Orders: 

All special orders are NON-RETURNABLE and NON-EXCHANGEABLE. NO EXCEPTIONS.